Yeah…
…so would I.
This was one of the things that made it home with me on one of my first shopping trips to Carrefour. I couldn't read any of the packaging, obviously, so I just got the one that had a cartoon chicken on it. I crossed my fingers and prayed that it was some indication of what was inside the breading. I was just hoping they don't do mascots here like Chick-fil-A. You know, like the cute little chicken is saying "Eat More Brain" or something and I just can't read it.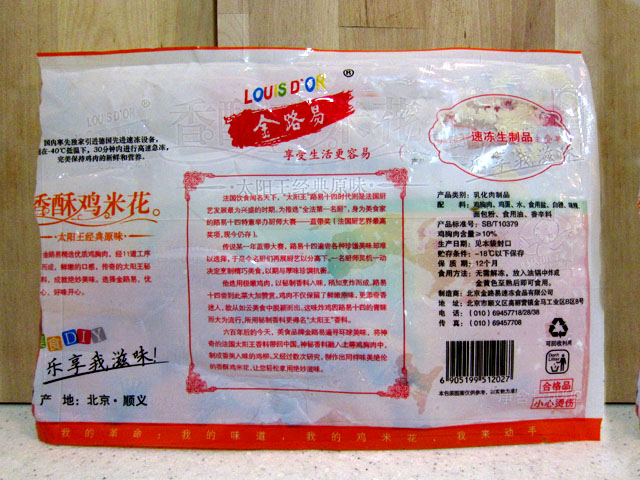 And how are you supposed to cook these?
I'm from South Carolina so you know what I did with them.
Deep fried in peanut oil.
Yum. That'll make any kind of meat taste good. Doesn't matter what it is.
I thought about trying to bake them (for about 2 seconds). We do have an oven in our apartment which is VERY rare in China. However, I can't read the dials. And the temperature is in Celsius, which I still can't convert correctly.
Just ask my family about my conversion skills. For about 3 weeks I thought we were only allowed 125 lbs in our air freight. We were told we got 275 kg. I packed all kinds of things into storage I would have brought because I thought we didn't have space. Turns out 275 kg is actually 600 lbs.
oops. (should've been my middle name.)